I've realized so many benefits lately from working oils into my beauty and skincare routines! I've found that by using one bottle of a high quality oil I've been able to reduce the amount of products on my shelves. Less products means less clutter, less time spent straightening up, and less stress for this busy little bee. A more streamlined, minimalist product collection also means less packaging, less waste, and less of an environmental impact. Plus using one ethical multi-use product allows me to simplify my buying process by eliminating researching multiple brands to determine their cruelty free status. Interested in all the ways I've found to use oils in self care? Read on!!
Did you know that all make up is oil soluble? If you've been aggressively swiping away at your waterproof mascara with a cotton ball soaked in a water, soap, or cream formula there is a whole new world out there waiting for you, and it is a world of oils!
Oil is able to completely breakdown all your makeup. There are oil based formulas of commercial make up removers out there that do a decent job but honestly the effective ingredient is just oil. A nice bottle of cold-pressed, organic olive or coconut oil is almost always going to cost you less and last longer. There are also some very nice oil blends out there. The one featured in the photos for this post is a lovely multi purpose oil from FreeBird Organics.
Leave a comment and let me know if you'd like to see another post about my simple, eco-friendly and effective double cleansing method! ; )
Oils also make an excellent moisture rich treatment and I love using them as masks when my skin is feeling dehydrated. I use a small amount of oil and gently massage it int for a few minutes. This is super relaxing and really helps get the blood flowing to my face. I'll leave the oil on for anywhere from 5 minutes to half an hour depending on my schedule that day before I use a clean wash cloth to gently wipe away.
Oils make a wonderful hair treatment! I use a small amount to seal split ends between trims, help combat frizz, and give dry areas some much needed moisture. Another option is to do a hair mask. I'll Use several ounces of oil to saturate all of my hair. Then cover or wrap my hair and let it soak in for an episode (or a few episodes if I have the time) of my current Netflix binge. I Shampoo it out and condition as normal.
Oil added to my bathwater creates and extra relaxing and luxurious soak. If I use an oil blended with some essential oils, I can get the added benefit of a pleasant and relaxing fragrance as well.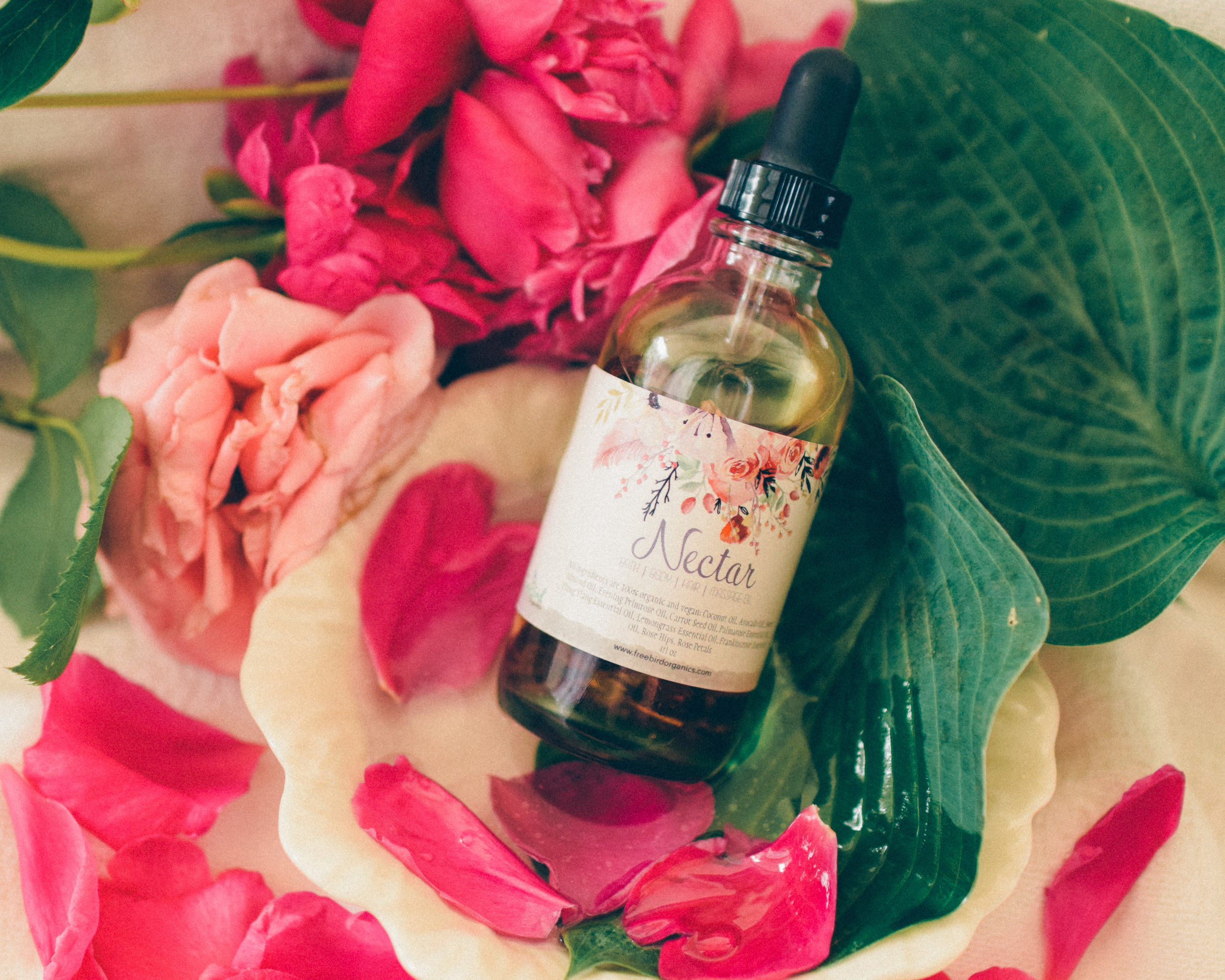 If you look at the ingredients list for a typical commercial moisturizer there's usually a lot of synthetics. I'm not against all synthetics but for moisturizers I find them unnecessary. Did you know that things you rub into your skin end up getting absorbed into your blood stream?
When it comes to taking care of my largest organ I prefer to stick as close to nature as possible. Plant oils are a great option and much easier to police for my cruelty free values. I love the moisture I get from working a few drops of oil into my skin. The healthy glow is unbeatable for a dewy summer aesthetic.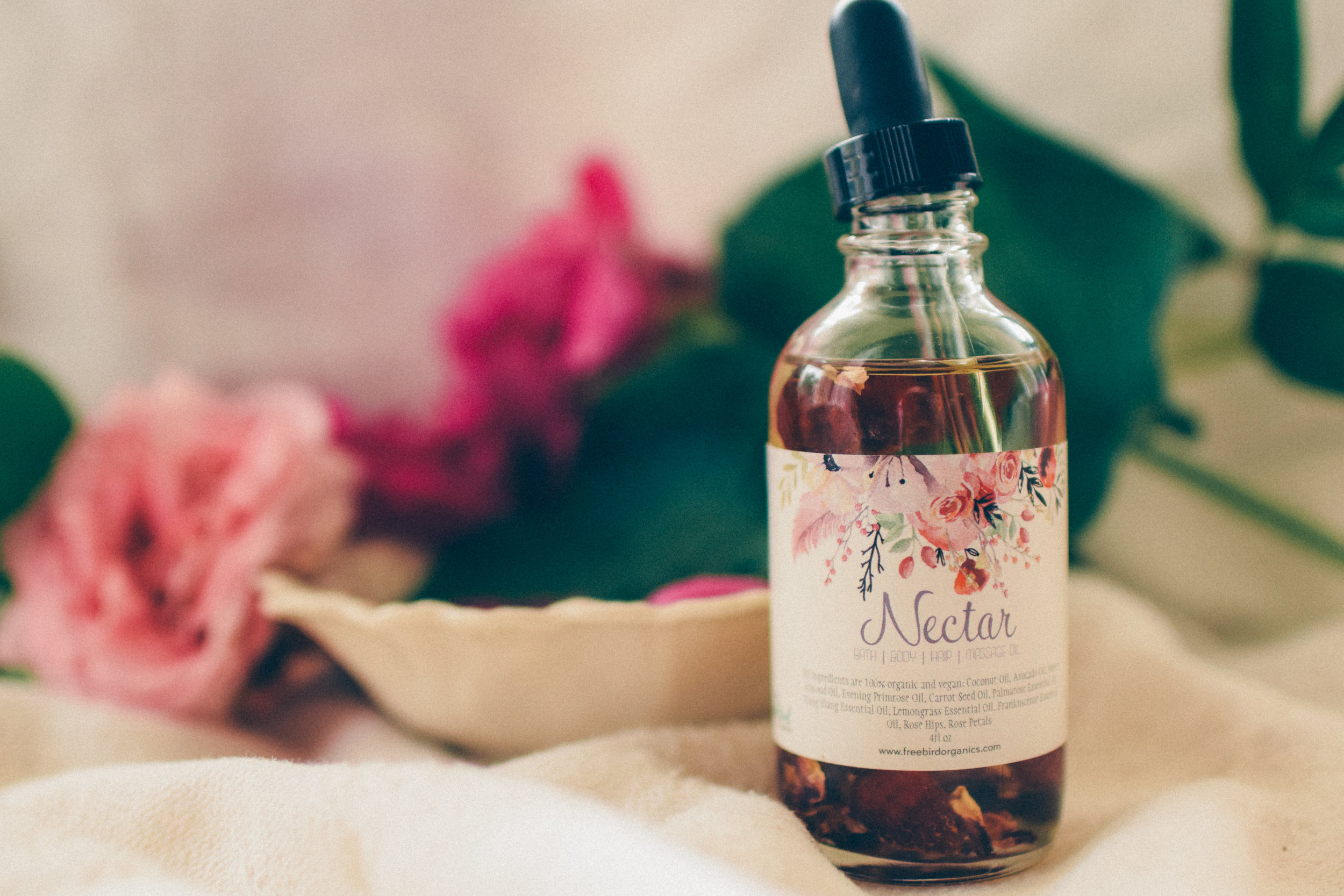 A little sugar mixed with a few drops of oil makes an awesome DIY lip scrub. After I scrub I'll go ahead and use a few more drops as a moisturizing and shiny lip balm!
A basic oil or blend makes an excellent cuticle oil. I like to use an oil blend all over my hands like a hand cream. I gently work it into my cuticles before pressing them down if I'm doing my own manicure.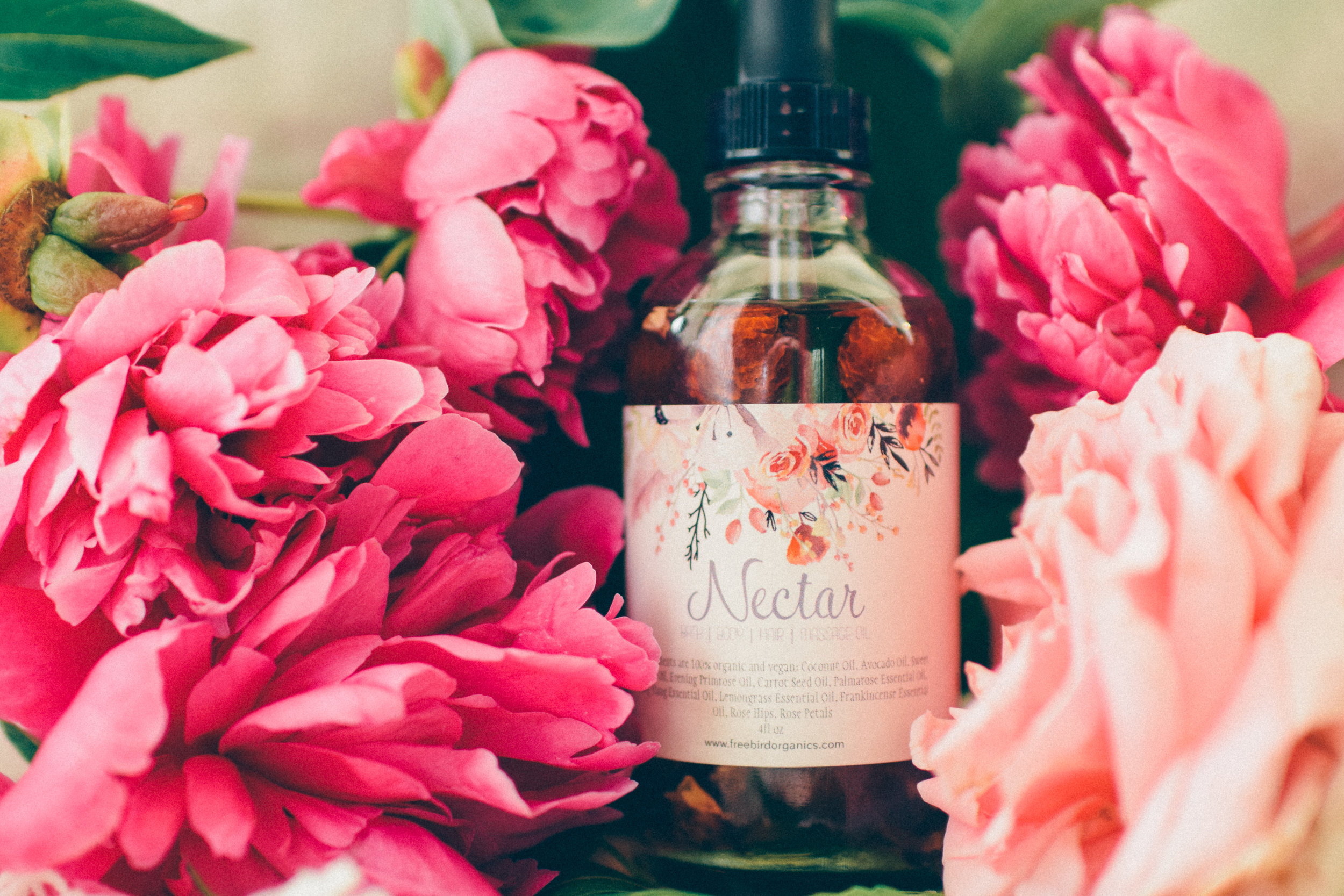 There are so many wonderful smelling essential oils and oil blends out there. If you are already using theses in other areas of your self care then don't be afraid to dab a couple drops on your pulse points as a fragrance!
I've been using the Nectar featured in these photos as my oil of choice lately. I'm a Brand Representative with FreeBird Organics so if you'd like to check out Nectar or any of their products you can use my code MauraMD10 to save 10%. The company is a small New Jersey business where the owner, Roxy Finamore makes all the products by hand with organic and cruelty free ingredients. Roxy is running a free shipping offer right now too and you can totally combine codes for max savings! I can't recommend FreeBird Organics enough!